Karcher SC1020 Steam Cleaning Station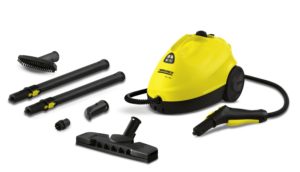 Tired of using different types and brands of steam cleaners and still can't get that squeaky clean finish that you've been looking for? Karcher introduces SC1020 Steam Cleaning Station, the perfect cleaning mate that will take care of all the grease, grime and gunk with no hassle. Its 3.2 max, steam pressure makes it the perfect steam cleaner to keep your home extra clean. The steam flow control on the handle makes cleaning more efficient plus it comes with an integrated funnel with cleaning kits and tools that you can interchange depending on your cleaning needs.
The SC1020 comes with these standard accessories and features:
Childproof safety lock
Safety valve
Parking position
Steam hose with gun 2m
Detail nozzle
Hand tool
Round brush
Terry cloth cover for hand tool (1 pc)
Descaler sticks
Terry floor cloth (1 pc)
Floor nozzle
All of these accessories in one product, simply means it is worth the purchase and true value for your money.